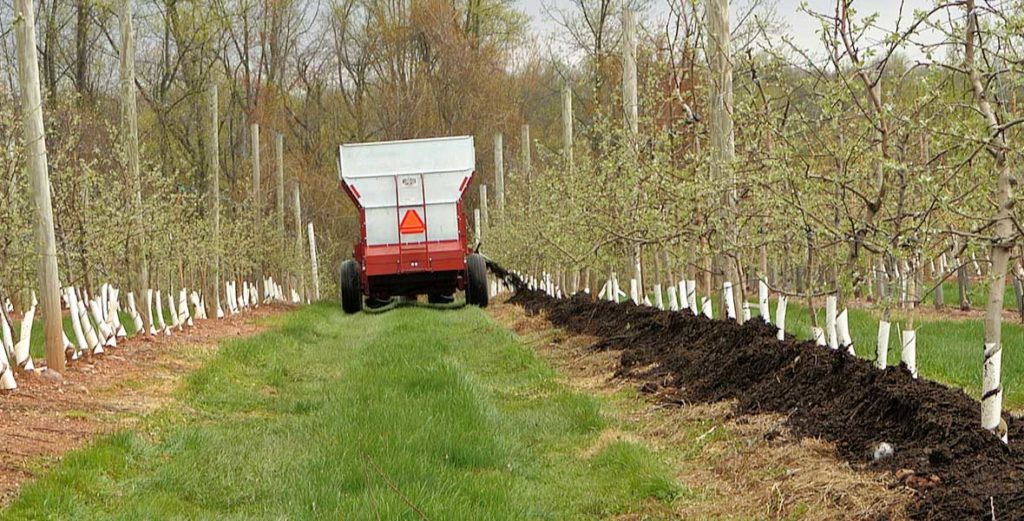 Mulching is, hands down, one of the most time-consuming and labor-intensive jobs on your orchard, vineyard, or farm. Anyone who has performed this tedious task knows that mulching by hand is a slow and difficult process that requires multiple trips to and from the mulch pile to load and unload wagon after wagon. So, what is the best way for orchards, vineyards, and farms to spread mulch? Read on to find out how a row mulcher can help you maximize productivity when it comes to this tedious task.
Mulch Spreading In An Orchard
Since orchards are often vast properties with row after row of trees, as well as long and sometimes low hanging branches to maneuver under, mulching by hand can be extremely time consuming. A row mulcher can help you to cut this time in half. In fact, Millcreek Row Mulchers offer side spreading, drop spreading, and remote spreading features so they can be adjusted to accommodate spreading in aisles, or in drip lines for smaller trees, or to remotely spread materials under branches.
Mulch Spreading In A Vineyard
Mulching in vineyards requires a high level of precision but is achieving that precision really worth the time and labor you expend by hand mulching? Fortunately, there is a better way!
Row Mulchers solve this issue through engineering that is designed to handle various materials and conditions. Best of all, our Mini Row Mulchers are ideal for applying bulk material in vineyards with narrow rows.
Mulch Spreading On A Farm
If you own or manage a berry farm, a farm with narrow rows, or a farm that grows organic crops, you know what a tough job mulching by hand can be. Mulching crops that are arranged in narrow rows or that sit low to the ground can be backbreaking work. Row Mulchers are designed to make your job faster and easier by spreading mulch at the base of the plants, reducing trips and aisle turns, and increasing the speed of application.
For organic farms, machine mulching help crops to grow stronger by spreading organic mulches to suppress weeds, conserve water, and moderate soil temperatures. Our Wide Body models make it practical to spread organic mulches while addressing all of these issues.
Ready to Ditch the Shovel and Leave Hand Mulching Behind?
As you can see, our row mulchers are versatile, practical, and efficient! They cut down on labor costs, saving you both time and money. Let our friendly and knowledgeable staff help you find the right size and model for your operation. Contact us today. We look forward to hearing from you.